HARDEST DECISION I EVER MADE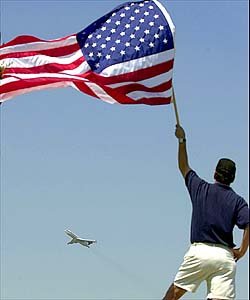 President Bush said the hardest decision he ever made was to have the plane headed for the Capitol building shot down. He admitted that he could have done anything else to save the lives of the people on the plane he would have done it but he had to decided whether the lives of many were more important that the passengers on the plane headed for the nation's Capitol building.
The passengers aboard the plane had agreed they were going to die once they heard of the planes crashing into the World Trade Center and called "911" to notify the government that they were headed for the Capitol building and they were going to do what they could do to stop the terrorists. These brave people knew that the government would have to do something to stop the terrorist. Unlike the terrorists they gave their lives to save thousands of lives in the Capitol building. They knew that our nation's security and the foundation of our government was threatened by the terrorist on the plane they were on so made calls to insure that the plane was stopped.
This proves how brave Americans can be in times when our nation is in danger of invasion. They gave their lives to save not only others but our way of life. Heaven was surely busy on Tuesday greeting all these brave souls into Heaven. May God watch over their families here in the US and from the other nations who lost people in the terrorists attack.
Rescuers are still trying to find live victims of the attack at the World Trade Center even though the chances are very small that they will find anyone alive. If someone is found alive it will be a miracle. But miracles are God's work so who knows there may one or a few in that terrible rubble that was once a building.
Money, boots, food, and other necessities are being donated by the American people to help the rescuers who are risking their lives to recover bodies and body parts from the rubble. The men write their name and social security number on their arms and legs so if they are caught under the dangerous falling rubbles they can be identified. May God watch over them and help them in their search.
by Jane Custer - USA, has a BS in Communications and loves writing
---
© September 2001 English on the Internet
www.aj.cz
english@centrum.cz