Old is definitely Gold!
December 12, 1999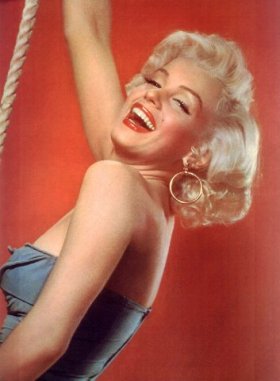 don't know how many of you have heard of Betty Davis, Marilyn Monroe, Clark Gable or Elizabeth Taylor. Each of them had a voice to please several souls, looks that send countless hearts beating and a talent that set Hollywood on fire!
I hadn't seen an American Classic film till I stepped foot here. Just a week back, I was required to write a movie review for a class project. The film was "Now, Voyager" starring Betty Davis and Paul Henreid. I rented the movie and was relieved by seeing the tape cover which had a still from the picture, in colour. The movie started and I realized that the nightmare had just begun. It was a black and white movie! "Oh no, I can't go through a 118 minutes by watching their world in two colours!" I forced myself to stay put and guess what? At the end of it, I sat there asking for more. It was a creative movie and overall I was pretty impressed. Not to mention the great score (music/soundtrack).
That very same weekend I opted to rent "Gentleman prefer Blondes" (this was in colour) starring Marilyn Monroe and Jane Russell. Absolutely fabulous. They both sang in their own voices, danced and displayed immense acting talent. Comparing these Classics to the movies today, I'd say they both have to be given credit in their own times. But the Classics have somehow continued to enthrall viewers and hence have landed up living way past their "expiration dates." No wonder they are called "Hollywood Classics" and their actors remain "Legends."
There are a whole load of things you could point to while watching one of these. One of them is the fashion and make-up. I've always been attracted to the fashion industry and so, I just couldn't help noticing Marilyn's tight corsets, beaded pink gowns, Betty Davis' pencil-thin eyebrows and Jane Russell's high slits. Besides fashion, the type of music, the portrayal of on-screen romance, dialogue delivery etc. was also very different from what movies are today.
I'm waiting for the finals to end so that I can sit in front of the TV with a load of ice-cream and watch some more of these refreshing Classics. Try renting one of these oldy-goldies (get a colour one if it's your first time) and watch it with and open mid. I'm sure most of you'll will begin to appreciate what the actors then had to offer. Try "Gone with the Wind" or "Gentleman prefer Blondes."
by Maliha Suleman - studying journalism at The Texas Christian University in USA
---
© December 1999 English on the Internet
www.aj.cz
english@centrum.cz