Julia Roberts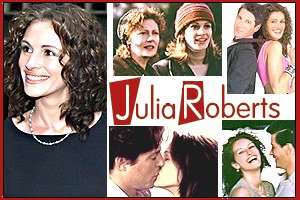 Occupation: Actress
Date of Birth: October 28, 1967
Place of Birth: Smyrna, Ga., USA
Sign: Sun in Scorpio, Moon in Virgo
Relations: Father: Walter (vacuum salesman); mother: Betty (secretary); brother: Eric (actor); sister: Lisa (actress); ex-husband: Lyle Lovett (singer, songwriter, actor); ex-companions: Liam Neeson (actor), Dylan McDermott (actor), Kiefer Sutherland (actor), Jason Patric (actor), Daniel Day-Lewis (actor); current companion: Benjamin Bratt actor)
Education: High school

In Notting Hill, Hollywood's hottest actress plays the part she knows best: movie star.
ulia Roberts, the most famous, highest-paid actress of her generation playing … a high-paid, world-famous movie star? It may not sound like much of a stretch, but the 31-year-old Roberts — who portrays film diva Anna Scott alongside Hugh Grant's modest, struggling London bookstore owner in this week's Notting Hill — begs to differ. As she goes about doing publicity for Notting Hill, which was written by Richard Curtis (Four Weddings and Funeral), Roberts is keenly aware that parallels will be drawn between her and her infamous, drop-dead gorgeous, and (most importantly) temperamental character. But she's cool with that — kind of.

Roberts, whose recent mega-deal for Erin Brockovich put her on a par with the Hollywood Boys Club — the $20 million-a-picture gang that includes the likes of Harrison Ford, Mel Gibson, Jim Carrey, and Will Smith — supposedly still rides the New York subway and says celebrity really hasn't changed her all that much. That's why the actress understandably wants the world to recognize that she is giving a performance rather than doing a walk-through in Notting Hill. But while taking the role of Anna Scott may have been a risky choice for such a high-profile star, everyone seems to agree that the risk paid off for Roberts, who gives one of the best performances of her career in the film.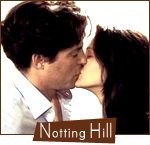 While the numerous apt similarities between Roberts and her character may be mostly superficial, Anna does share the actress's bumpy travails as a public figure. In Roberts' decade-long roller coaster ride with fame, her professional hits and flops have always been overshadowed by her string of broken engagements (Kiefer Sutherland and Dylan McDermott), relationships (Jason Patric, Daniel Day-Lewis, Matthew Perry), and her divorce (Lyle Lovett). Her current romance with the stunning Benjamin Bratt is no exception, particularly since his leaving Law & Order has some wondering what the couple plans to do next. (The pairing of the real-life loves during May sweeps brought the show its highest ratings in three years.)



| | | |
| --- | --- | --- |
| MOVIE | CHARACTER | RELEASE DATE |
| Erin Brockovich | Erin Brockovich | March 17, 2000 |
| Runaway Bride | Maggie Carpenter | July 30, 1999 |
| Notting Hill | Anna Scott | May 28, 1999 |
| Stepmom | Isabel Kelly | December 25, 1998 |
| PBS - Orangutans | Herself | May 20, 1998 |
| Conspiracy Theory | Alice Sutton | August 8, 1997 |
| My Best Friend's Wedding | Julianne Potter | June 20, 1997 |
| Everyone Says I Love You | Von | January 3, 1997 |
| Michael Collins | Kitty Kiernan | October 11, 1996 |
| Mary Reilly | Mary Reilly | February 23, 1996 |
| Something To Talk About | Grace Bichon | August 4, 1995 |
| Pret-A-Porter | Anne Eisenhower | December 25, 1994 |
| I Love Trouble | Sabrina Peterson | June 29, 1994 |
| The Pelican Brief | Darby Shaw | December 17, 1993 |
| The Player | Herself | April 10, 1992 |
| Hook | Tinkerbell | December 11, 1991 |
| Dying Young | Hilary O'Neil | June 21, 1991 |
| Sleeping With The Enemy | Sarah/Laura | February 8, 1991 |
| Flatliners | Rachel Manus | August 10, 1990 |
| Pretty Woman | Vivian Ward | March 23, 1990 |
| Steel Magnolias | Shelby Eatenton Latcherie | November 15, 1989 |
| Mystic Pizza | Daisy Arujo | October 21, 1988 |
| Baja Oklahoma | Candy Hutchens | February 20, 1988 |
| Satisfaction | Daryle Shane | February 12, 1988 |
| Blood Red | Maria Collogero | January 1988 |
| Firehouse | Babs | 1987 |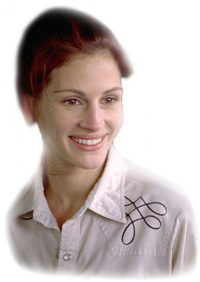 ---
© December 2000 English on the Internet
www.aj.cz
english@centrum.cz