News
How — and Why — End of Days Finale Changed

The finale you'll see in End of Days, which has Arnold Schwarzenegger battling the devil (Gabriel Byrne) in an eve-of-millennium showdown, isn't the original one.
Production on the film, which will be out Nov. 24, was delayed for two months to change the nature of the climactic battle scene after religious leaders objected to the original scenario. While we've always had little doubt over who'll emerge victorious from the epic fight, the details of Days' end were more easily negotiable.
Spoiler warning!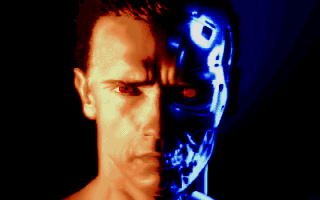 What had the clergy clamoring for a rewrite? An armed-for-Armageddon Arnie, that's what. In a Matrix-style scenario, Schwarzenegger's mortal hero relied on old-fashioned heavy artillery to send Satan back to hell, reports the BBC. However, religious leaders objected, and another ending was cooked up. Now Schwarzenegger's Jericho Cane character relies on an undetermined spiritual means of dispatching his evil enemy.
Says the two-time Terminator, the new ending is "spectacular and spiritual. The message is about peace and faith."
What manner of devil is Schwarzenegger up against? Byrne tells the Washington Post about his approach to playing Satan, "I wanted to play a Devil who was completely accessible … the kind of guy who could sit down beside you in a bar and … seduce you into doing whatever he wants … like a really astute politician."
Peter Hyams (The Relic) helmed the apocalyptic actioner after music video director Marcus Nispel left over the usual artistic differences.
Copyright ©1999 ABC News Internet Ventures.
Bout da man
Occupation(s): Actor, Author, Director, Restaurateur
Date of Birth: July 30, 1947
Place of Birth: Graz, Austria
Education: University of Wisconsin, B.A. in business, economics
Relations: Father: Gustav (policeman); mother: Aurelia; brother: Meinhard (champion boxer); wife: Maria Shriver (TV journalist); kids: Katherine Eunice, Christina Maria Aurelia, Patrick, Christopher Sargent Shriver; famous in-laws: The Kennedys
Sun Sign: Leo
Moon Sign: Capricorn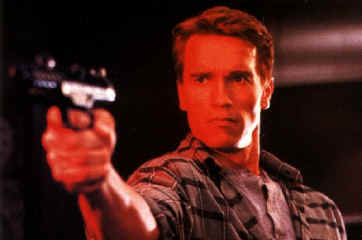 WHEN is a muscle-bound Austrian megahunk with an accent thicker than a gallon jug of molasses as American as baseball, Mom, and apple pie? When his name is Arnold Schwarzenegger, of course. From the moment he arrived in the United States to compete in the 1968 Mr. Universe competition, the man once known among his body-building peers as the "Austrian Oak" started making his own American Dream come true. Raised in poverty by strict, yet loving, parents, Schwarzenegger was barely into his teens when he pinned his hopes on bodybuilding as his ticket to the top. Self-discipline and tireless training paid off in spades when he was crowned Mr. Universe at the age of twenty, becoming the youngest man ever to win the title. Just one year later, he was making movies, and not too long after that, he was making millions buying and selling real estate. All of these milestones were followed by U.S. citizenship; marriage to a Kennedy; a special appointment as a presidential advisor; and mind-boggling success as an actor with a stunning string of top-grossing blockbusters to his credit.
Born the second child of a police chief in Graz, Austria, young Arnold was raised in conditions the youth of today don't even hear about from their grandparents anymore: he was fourteen before the Schwarzeneggers could finally afford to furnish their home with such amenities as indoor plumbing, a refrigerator, and a telephone. His chores began at 6:00 a.m. every day, and when those were done, Arnold and his brother were then required to perform fifteen minutes of squats and sit-ups before they were served breakfast. The boys were free to spend Sunday nights roaming about the town, which boasted a movie theater, among other amusements, but each was required to compose a ten-page essay about the evening's activities upon returning home.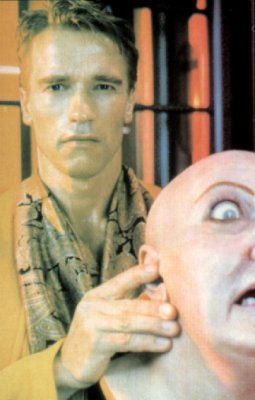 It was when he began lifting weights to train for the local soccer team that Schwarzenegger first sensed that he was destined for greatness. "When I was fifteen," he recalls, "I had a clear vision of myself being onstage winning the Mr. Universe contest." He pursued this goal so assiduously that he joined the Austrian army at the age of eighteen for the sole purpose of supplementing his training diet with fresh meat. One month after enlisting, he went AWOL to compete in the Mr. Junior Europe contest, a stunt which earned him not only the first of his many bodybuilding titles, but also a year in the brig. Doing time didn't slow him down a bit, and the following year, after leaving the army, Schwarzenegger collected the titles of Mr. Europe and Best-Built Man of Europe, and also won the International Powerlifting Championship. In 1968, he came to the United States to defend the Mr. Universe title he'd won the previous year, and was rudely welcomed with a second-place finish--perhaps the only setback of his entire bodybuilding career. But thereafter, he dominated the sport so thoroughly--he won four more Mr. Universe titles and six consecutive Mr. Olympia titles--that he retired after seven years because he felt he "wasn't giving others a chance to win."
Today's athlete would have hired an agent and waited for endorsement contracts to come flooding in, but the tireless Schwarzenegger was out to build Rome in a day. He had scarcely come ashore when he landed his first starring role in a feature film, 1970's Hercules Goes to New York, and he so impressed Lucille Ball during an appearance on The Merv Griffin Show that she handed him a plum role in the pilot episode of her new sitcom Happy Anniversary and Goodbye. Hercules proved a laughable mess; the sitcom never aired; and in his second movie outing, in Robert Altman's The Long Goodbye, Schwarzenegger got the tar beat out of him by the diminutive Elliott Gould. Undaunted, the fearless entrepreneur threw himself into other pursuits, including starting up a profitable bricklaying partnership with fellow bodybuilder Franco Columbu that in turn provided capital to fund a mail-order business selling fitness books and cassettes. The success of these ventures bankrolled the purchase of an apartment building, Schwarzenegger's first in a series of shrewd real-estate investments. Somewhere along the way, he found the time to complete correspondence courses from the University of Wisconsin, which eventually awarded him a bachelor's degree in business and international economics. By the time the bodybuilding documentary Pumping Iron had made him a national celebrity in 1977, Schwarzenegger was already driving a Mercedes Benz and living in a $200,000 home in Los Angeles.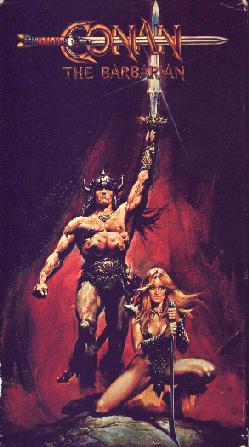 Although he won a Golden Globe Best New Actor award for his performance in 1975 Stay Hungry, cinematic success proved elusive for the genial Austrian giant; it was not until 1982 that he landed a starring part in a major feature. Schwarzenegger incarnated to a tee the title role of Conan the Barbarian, a character based on pulp writer Robert E. Howard's mythical wandering warrior, and though the critics mercilessly ridiculed both movie and star, the film was a box-office smash and its Austrian lead with the mouthful of a name was finally on his way. The landmark performance of his entire career came two years later, when Schwarzenegger collaborated with rookie director James Cameron on the science-fiction thriller The Terminator. Originally slated to appear as the film's hero, Schwarzenegger convinced Cameron to let him instead play the title role, that of an emotionless, unstoppable cybernetic assassin--a "Steel Reaper." Made on a barely-believable budget of $6 million, The Terminator yielded a financial bonanza. As for Schwarzenegger, he became a one-man action franchise in the wake of the film's success, turning everything from Commando (1985) to Total Recall (1990) into box-office gold, and even displaying a surprising gift for comedy in the equally successful blockbusters Twins (1988) and Kindergarten Cop (1990).
Shortly after coming into his own at the box office, Schwarzenegger pulled off an equally impressive coup in the celebrity-marriage department when he won the heart and hand of Maria Shriver, niece to slain President John F. Kennedy and his equally famous brothers, Robert and Ted. The two met at the Robert F. Kennedy Pro-Celebrity Tennis Tournament in 1977, and subsequently dated for eight years. Schwarzenegger finally asked that magical question during a rowing excursion on an Austrian lake near his boyhood home. The couple tied the knot in 1986, and theirs has since been an exemplary marriage, producing four children to date. Despite having married into the most notably Democratic family in America, Schwarzenegger has remained a staunch Republican since becoming a naturalized American citizen in 1983. He even served as the Chairman of the President's Council on Sports and Fitness during Republican George Bush's administration.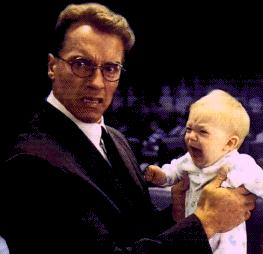 Schwarzenegger's box-office domination hit its zenith in 1991 when he re-teamed with director Cameron for Terminator 2, his most commercially successful film to date. He stumbled a bit with the 1993 action-comedy The Last Action Hero, and his fans were less than impressed with his turn as the world's first pregnant man in Junior the following year, but Schwarzenegger made it up to them by getting back down to the business of blowing stuff up and kicking ass in True Lies (1994), Eraser (1996), and 1997's Batman & Robin (in which he played the villainous "Mr. Freeze"). After a two-year-long hiatus from the screen — a period during which he underwent heart valve surgery — the Austrian Oak returned in the millennial-mayhem flick End of Days, in which he played a flawed and vulnerable hero who attempts to save the world from Satan's plans to spawn with a mortal bride.
One of the elite few in Hollywood who command eight-figure salaries, Schwarzenegger has his pick of scripts. Next up, he stars in The Sixth Day, a film the actor describes as "a suspense thriller about cloning." Schwarzenegger has also been mentioned to play characters ranging from Swiss archer William Tell to Spiderman nemesis "Doctor Octopus." Other possibilities include roles in a Ridley Scott remake of I Am Legend and a sixth sequel to Planet of the Apes; he may even go behind the camera in the near future, something he has done twice already for cable-television productions.